Recirculating Ventless Countertop Hoods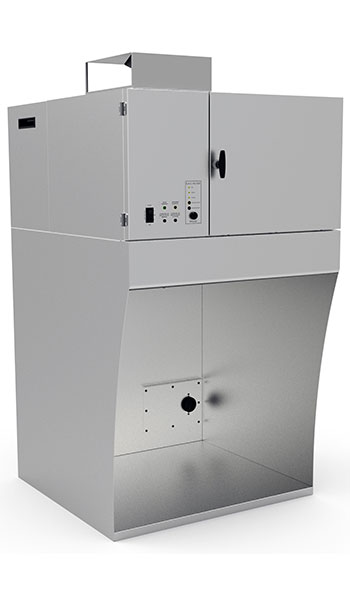 GVH-C [Type 1]
Giles Counter-Top Ventless Hood is a certified Type-1 recirculating Hood featuring our proven Ventless technology, which can eliminate the necessity for expensive kitchen modifications and costly ductwork for venting to the outside. It is specifically designed for countertop installations for use with small electrically heated appliances.
PRODUCT OPTIONS: GVH-C [Type 1]
GVH-C:
32" wide, innovative Type-1 Ventless Hood designed specifically for countertop applications (within listing limitations). Approved for a variety of small electrically heated countertop appliances … fryers, cook-tops, griddles, toasters, ovens, etc. 3-stage air cleaning system features high-efficiency Double Baffle Filter, Electrostatic Air Cleaner, and Activated Charcoal Filter for odor control … exceeds grease-laden vapor emission requirements. Listed to UL YZCT (-7 for Canada), complying w/ANSI/UL 710B. Durable easy-to-clean stainless steel construction. Available with optional interlocked Appliance Power Receptacles (50A max), minimizing on-site installation work. The hood is factory pre-plumbed with internal piping, discharge nozzles, fusible link detector brackets, cable conduit & wire rope and is ready to be connected to a customer provided, approved fire suppression system (Ansul R102 wet chemical). Purchase of the system, field installation/set-up, testing & commissioning is completely the responsibility of the customer; not included.