Recirculating Ventless Multi-Appliance Hoods
Self-Supporting Floor Stands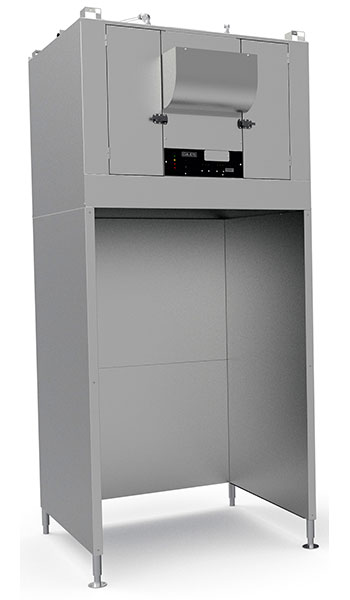 FSH-4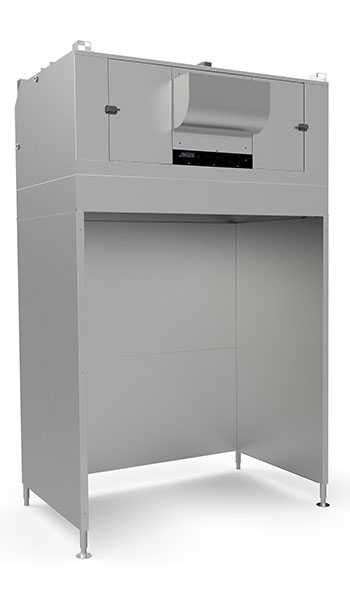 FSH-6
Larger, Multi-Appliance Ventless Hoods are certified Type-1 recirculating Hoods featuring Giles proven Ventless technology. Not suitable for every situation, but generally may be used in developing commercial food service opportunities in some non-traditional sites when conventional ventilation solutions are not feasible because of physical, architectural or regulatory restrictions,. Is your business growing and your kitchen out of hood space? With no expensive ductwork additions or structural modifications required, you may be able to expand the cook line without too much hassle.
PRODUCT OPTIONS: FSH-4, FSH-6
48" or 72" wide Ventless Hood mounted on a 72" high self-supporting, fully skirted, Floor Stand. Maximizes usable hood space and capture performance, without worrying about the "over-hang" clearance requirements of suspended units. UL listed for use with a variety of electrically heated floor model appliances … Fryers, Ranges, Flat-top Griddles, Ovens, and Vertical/Horizontal Broilers. 4-Stage Air Cleaning technology features stainless steel Baffle Filters, disposable Pre-Filters, Electrostatic Air Cleaners, with Activated Charcoal Filters to help control cooking aromas in the recirculated clean air … complies with grease-laden vapor emission requirements. Listed to UL-YZCT (-7 in Canada), complies with ANSI/UL-710B. All durable stainless steel construction. Factory pre-plumbed, ready for connection to a customer provided fire suppression system including, internal piping, plenum nozzles (does not include appliance drop-down nozzles), fusible link detector brackets, and link cable conduit. Hood is listed for the Ansul R-102 wet chemical suppression system. Purchase of the system, field installation/set-up, testing & commissioning is completely the responsibility of the customer; not included and must be supplied by an authorized Ansul Distributor/Dealer.