Round Ventless Kettle Fryers, Electric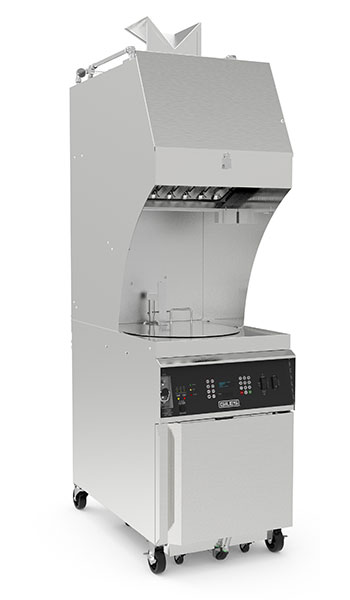 GEF-400-VH Electric
GEF-560-VH Electric
PRODUCT OPTIONS: GEF-400-VH Electric, GEF-560-VH Electric
The Round Ventless Kettle Fryer is designed to fry foods quickly and easily, delivering maximum profit with minimum effort and expense. Give your customers deliciously crisp and moist chicken every time from this unique fryer, which may open up opportunities for fried food sales in non-traditional places where conventional ventilation hoods are impractical, prohibited, or simply too costly
Consumes a minimal amount of floor-space, yet has plenty of capacity to feed a hungry crowd. The proven, multi-stage, recirculating hood system for air cleaning and odor control is an integral part of the unit, and no venting to the outside is required. Listed to UL KNKG (-7 for Canada), complying with UL 197 & ANSI/UL 710B. Durable robust cabinet design; 5" casters offer convenient mobility. Front locking casters. Easy to clean and simple to maintain; electro-polished, all stainless steel Basket. Circular heating elements surround product, promoting fast recovery; even with frozen foods. Computer Controller with intuitive user interface, features 50 programmable Menu Item cooking presets, Auto-Cool Mode, Force-Filter feature, Boil-Out function, enhanced fryer monitoring, password security option, and multiple language selections. Self-contained Ansul R102 Fire Suppression System; completely factory-installed except for fusible link detectors, liquid chemical suppressant and firing cartridge. Final installation/set-up and commissioning must be performed by an authorized Ansul agent; not included, customer provided. Automatic Basket Lift lowers basket when cook cycle starts and automatically raises it out of hot oil when the cycle ends … helps avoid over-cooking. Convenient on-board oil filtration system features powerful ½ HP pump for quick and efficient filtering. Not just for chicken … use for many other fried favorites, as well. Model GEF-400, Electric:

10 kW cooking power. Oil capacity: 45 lbs. (20.4 kg). Product capacity: 14 lbs. (6.4 kg) cut chicken.

Model GEF-560, Electric:

15 kW cooking power. Oil capacity: 60 lbs. (27.2 kg). Product capacity: 19 lbs. (8.6 kg) cut chicken.